Caring For Your Fine Wood Furniture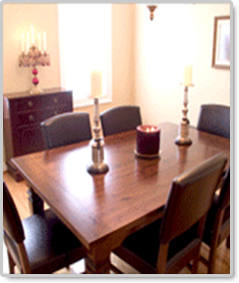 Fine wood furniture is a major investment for any household. To protect your fine wood furniture and keep it looking nice for many lifetimes, here are the things you should do to care for your furniture.
First, fine wood furniture hates extremes of temperature and humidity. As such, you should keep your home from becoming too dry or too humid, and too hot or too cold. In particular, being too dry can lead to cracking and warping of your furniture. Also, you should not allow your fine wood furniture to be exposed to direct sunlight, as this can cause damage by raising the temperature of the wood and finish, and direct sunlight can also cause permanent color changes of the wood (helpful accessories:
indoor humidity monitors
;
wood polishers and conditioners
).
The type of finish on the wood, not the type of wood itself, determines how fine wood furniture should be cared for and cleaned. Finishes may be soft (such as Tung oil or Danish oil finishes) or hard (lacquer or polyurethane finishes), or it can be a painted finish. You should clean and condition the surfaces of your fine wood furniture in accordance with the manufacturer's recommendation for the finish on your particular furniture.
Never use wax or furniture polish on fine wood furniture that has an oil finish, instead re-oil yearly with boiled linseed oil, Tung oil, or a product recommended by the manufacturer. Too much polish can build-up a cloudy film. So do not polish more than 3-4 times a year, unless your furniture gets very heavy use. And do not mix types of polish. Oil, for example, causes wax to become gummy. And be sure to clean the furniture surface thoroughly before changing furniture care products.
You should vacuum your fine wood furniture regularly with a dusting brush attachment to gently remove dust from furniture surfaces. Or you can gently use a clean soft cloth or soft paper towel, turning it often, to pick up dust (helpful accessories:
dusting cloths
;
linen and cotton table mats
). You should dust your furniture before vacuuming the floor around it, especially if you do not have a central vacuum system which will remove the dust from room.
To protect your furniture from scratches, spills and heated objects, you should be sure to place pads, mats and coasters on your furniture, and place mats under vases, glasses, cups etc. However, rubber or plastic mats should NOT be used unless specifically marked as being safe for wood, since some of these items may soften or stain the finish. Be sure to use felt under any objects that could scratch the fine wood. And if you do any any spills, you should immediately wipe them up to prevent spots that could require refinishing.